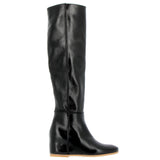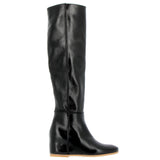 SKU: LIA nappa nera
SKU: LIA nappa nera
SKU: LIA nappa nera
SKU: LIA nappa nera
SKU: LIA nappa nera
SKU: LIA nappa nera
SKU: LIA nappa nera
SKU: LIA nappa nera
SKU: LIA nappa nera
SKU: LIA nappa nera
Boot in black leather with internal wedge
Taxes and
shipping
calculated at checkout
Cut
36
36.5
37
37.5
38
38.5
39
39.5
40
41
Description
A boot that knows no rivals: high-quality and resistant, this black leather boot ensures comfort and softness even for entire days. With an internal wedge, the shoe is perfect for both professional use and everyday life. Discover the comfort of a modern look and timeless style!
Soft leather upper.
Natural crepe sole
Internal "fussbett" sneaker-type insole lined in leather and removable mounted on an invisible 6cm internal wedge. (2.36 inches)
Hand built in Italy with 100% Italian materials.