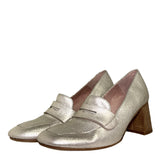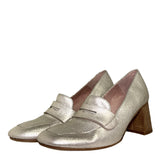 SKU: 314803
SKU: 314803
SKU: 314803
SKU: 314803
SKU: 314803
SKU: 314803
SKU: 314803
SKU: 314803
SKU: 314803
SKU: 314803
Silver supersoft metal moccasin with heel
Taxes and
shipping
calculated at checkout
Cut
36
36.5
37
37.5
38
38.5
39
39.5
40
41
Description
Let yourself be fascinated by the silver metal Supersoft! This heeled shoe is synonymous with comfort, thanks to quality materials, and is a cutting-edge item of clothing with a refined design. Its delicacy is guaranteed! Are you ready to feel good and make a big impression? Discover yours!
Soft and unstructured upper;
Leather lining and insole for a healthier fit;
Italian leather sole, "bag" construction;
100% Italian artisanal manufacturing;

Leathers coming only from selected Italian tanneries with environmentally friendly green processes, without the use of chrome and with disposal and filtering of the processing water.